SmartExporter.DXF

Version

2020.2

for

ArcGIS 10.x

Now Available

Features

DXF2000 Support

Polygon Fills

North Arrows

Points as Polygons

Multi-line Text

Text Alignment

Balloon Callout

Line Callout

Marker Text Background

Free Download

Screenshots of Sample Exports Added to Website
SmartExporter.DXF for ArcGIS/ArcMap:
Product highlights:
Seamless integration in ArcGIS/ArcMap - adds a DXF export filter easily accessible through the ArcMap export dialog.
Creates well-formatted DXF files, which can be opened or imported in most CAD, GIS and drawing packages.
Complete support for all native ArcMap geo types, labels, layout elements, etc.
Export in paper and map coordinates with intelligent coordinate transformation and map rotation handling and no precision loss.
AutoCAD DXF layers used for splitting the exported objects in logical groups (e.g. data layers by name, labels, grids and graticules, etc.).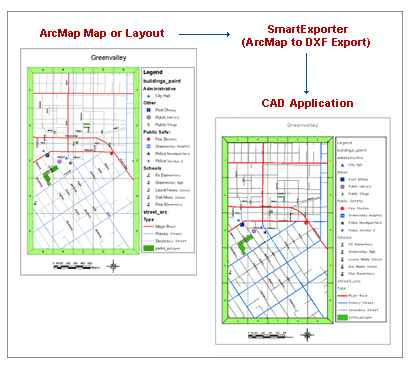 *real layout and real exported data displayed by
a third-party CAD/DXF/DWG application shown on this picture